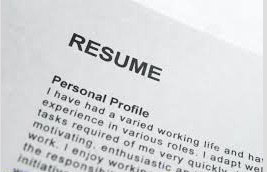 Writing a winning resume is a daunting task for most people. Making it even harder is the fact that we tend to update our resumes when we're feeling the pressure of needing to make a career change or are embarking on the job search journey. These moments tend to be full of pressure and quite stressful for most of us. The result can often be less than impressive.        
In these circumstances, there are 3 mistakes you are wired to make:
You blurt out everything
You know your career progression and accomplishments intimately and include as much as you can in the profile section. When you blurt everything out your profile sounds generic – a jack-of-all trades with nothing to focus attention on. You fail to sift out the crucial aspects that will get the reader's head nodding. Because you fail to stand out you wonder why you don't get any interviews.
What to do instead: Follow the "less is more" principle. Decide on the 2-3 aspects of your expertise and accomplishments that you want to focus on and write about those succinctly.
You hesitate to sell yourself
For most of us, talking about people we admire is easy, yet talking about our own accomplishments can be challenging. This is because we don't want to brag or appear boastful or arrogant. However, mastering the art of the "subtle brag" could be the key to writing a great profile section.
What to do instead: Pretend that your greatest advocate is introducing you to someone they respect. Write the 2-3 top things they would say to showcase your expertise and accomplishments. Be very complimentary.
You write "filler"
This is a common mistake, where you get drawn to include things like "excellent communicator, team player, great at time management". Whereas these are recognized requirements, they don't deliver a differentiated profile because they don't really say much about what makes you special. They are claims that everyone can make.
What to do instead: Use key words that your industry understands and that show that you have the depth of experience the reader is looking for. This will ensure that your resume gets to the "Yes" pile.
Try these tips the next time you're updating your profile section or pass them onto someone who needs to know them.
As always, if you need help, you can reach me at nancy@thriveatwork.com.au