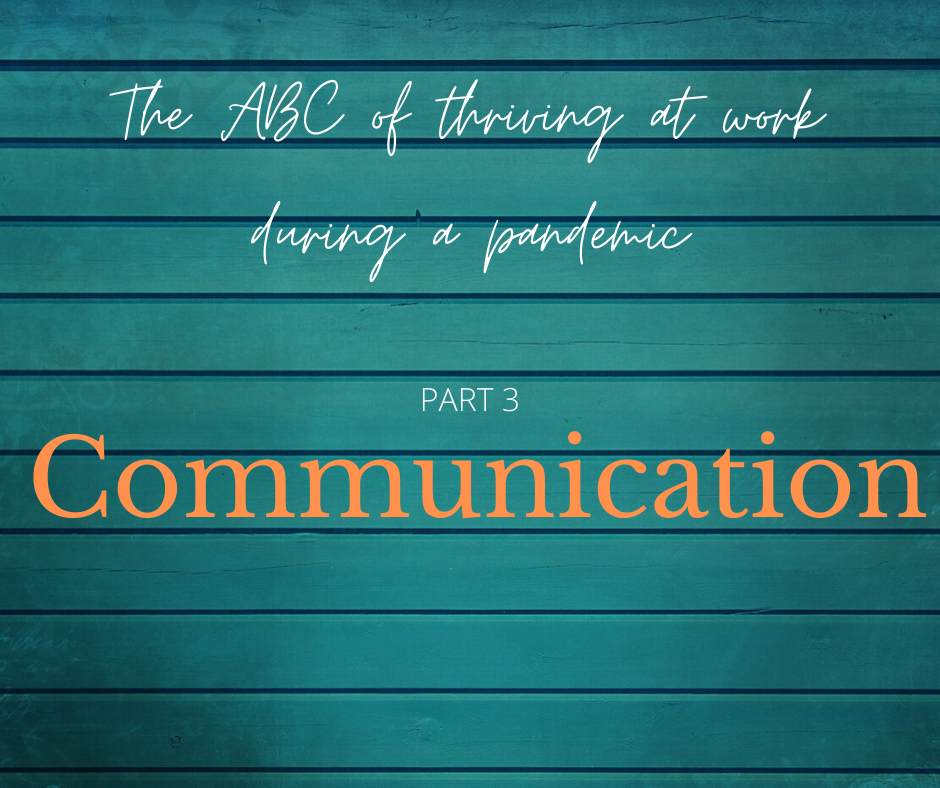 COMMUNICATION
When asked the question…can we really thrive at work during the pandemic, I offered three strategies.
First was to develop Adaptability, second was to master the skill of setting Boundaries and now we tackle the art of Communication.
Remote working requires that we pay even more attention to how often we communicate, the way we communicate and the structure of our communication, whether by phone, email, text message or on an online meeting.  There's never been a greater need for practising emotional intelligence and active listening.
So here are some thoughts and tips to ponder.
Note: I've narrowed the context to focus on communicating at work (with teams, peers and leaders) rather than with customers and external stakeholders.
As an individual, to enhance communication and more so during the pandemic, it's a good idea to:
Provide regular updates to your manager, team leader or project leader so they remain looped into your progress and therefore don't resort to micromanaging you (unless you like being micromanaged). Proactively let them know:

What you're working on
What you have accomplished
What obstacles or challenges you're facing
When you're not available
What assistance or support you require
Stay connected to your team

Initiate quick catch ups with your team members just as you would have done in the kitchen, over lunch or on a coffee run
Be active on any of your work social platforms (e.g. Yammer or Facebook at Work)
Notice who seems disconnected and practise empathy. Reach out to them and offer your support. On the flip side, if you're feeling disconnected, proactively reach out to a trusted colleague for support or just a chat.
As a leader, to keep your team engaged:
Schedule regular team check-in meetings (always include an agenda) and avoid moving the time around to suit your calendar. Remember, people are juggling work and home pressures while working remotely so sticking to agreed meeting times is important to minimise disruptions.
Catch up with individual team members regularly and ASK HOW YOU CAN HELP THEM. Servant leadership will serve you well during this time.
Make extra effort to engage with a staff member who has been, unusually quiet or withdrawn during team meetings. Remember, burnout is alive and well and some of your team members may be having a difficult time working remotely.
Instead of calling team members at any time or even multiple times a day and interrupting their flow of work, email or text them first to ask for time to discuss whatever is on your mind. This is not only thoughtful and respectful, but also efficient, as they will be mentally prepared for the conversation. Ask for the same courtesy from your team members and set healthy boundaries.
As a team:
A major challenge for teams is the proliferation of remote working tools which means that important messages can get buried and missed if you're not regularly checking each and every one of your communication tools.
It is a good idea for a team to decide which type of communication will be delivered through which specific tool.
Agree on a set of guidelines such as using a collaboration tool like Trello, Slack or Asana for communicating actions and progress on tasks. Facebook (Workplace by Facebook) or Yammer for social conversations, and Email for formal discussions.
This avoids confusion and ensures that important messages are not lost.
Another challenge for teams is the ability to collaborate. Remote working has forced teams to find innovative ways to mimic spontaneous white-board sessions or corridor conversations.
Using online meeting tools such as Zoom means you can not only have meetings, conduct training, run demos and walkthroughs online, but you can also have break out rooms where smaller teams can meet then come back and share with the wider audience – like you would during a workshop.
White-boarding tools to capture discussions such as Miro and Mural make online meetings even more effective. The key is to agree on a set of tools and use then appropriately.
Finally, a note on written communication:
Text messages, chat and email can sometimes be misunderstood so it is paramount that you watch the tone in your messages and always review and proofread your messages before hitting send.
I know you know this, but how many times have you re-read a message after sending it and have been horrified to discover how it could be misinterpreted. Oops!
You can also:
Make your emails short, concise and to the point
Include the aim of the message at the start of the subject line e.g. QUESTION, ACTION REQUIRED, FOR REVIEW, SUGGESTION, OPTIONS etc.
Use italics for light emphasis and bold for strong emphasis
If it's going to require some discussion, it's best to do this by phone followed by an email summarising what was agreed.
So, here's a question and a challenge for you…how many of these have you implemented? How many will you implement? Let me know…
And if you'd like to discuss effective communication strategies, how best to structure your messages, or would like to share a remote working tool you're loving, you can reach me at nancy@thriveatwork.com.au. Speak soon!