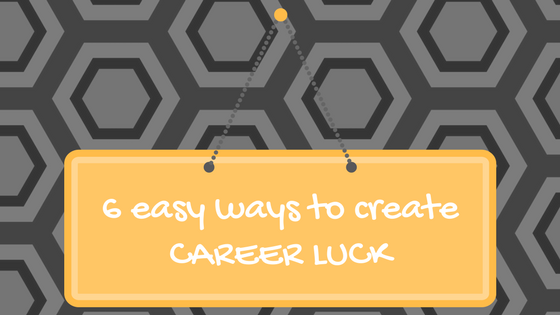 As someone once said…Luck is what happens when Preparation meets Opportunity.
So here are some preparation tips to ensure that you are ready when career opportunities present themselves.
These tips will help you stand out to the people that matter. Do them and you will greatly increase the chances of being noticed, rewarded and elevated.
Here are six things you must do to create your own career luck.
1. Do something outstanding that will get you noticed.
This has to be something over and above your day job. You could solve a problem that your boss, or a colleague, has been struggling with for a while.
By doing this you will leave a positive impression on them. And when a major opportunity comes along, the chances of them putting you forward or recommending you will be greater.
2. Build a network of advocates.
Having people eager and ready to vouch for you is better than tooting your own horn.
Make sure you let your leaders know your recent accomplishments so that they can mention you in discussions with their peers.
This is how people get approached for new or more challenging opportunities and for roles that require a step up.
3. Understand the politics of promotion in your organisation.
Find a sponsor in your organisation. This is someone who will put your name forward when leaders are looking for the right person to take up an important role or challenge.
In the corporate world, a good word from a senior leader (a sponsor) has become the best way to set you apart from all those others seeking the same opportunities.
4. Network within and outside your organisation.
Make time each month to attend a networking event in your industry or in the industry you want to get into.
At each event, your goal should be to have deep and meaningful conversations with at least two people. And remember to be memorable – in a good way.
In your current organisation, make it a priority to set time aside each week to catch up with people you have been introduced to by others or who you've met in meetings but have not had a chance to get to know better.
Having a wide network will allow you to reach out and help someone or be helped when the time comes.
5. Keep your credentials up-to-date.
Update your resume every time you complete a major project, go for a course or learn a new skill. You don't have to wait to get a promotion or to be looking for a new job to update your resume.
Make use of the power of LinkedIn – keep your profile up-to-date, include accomplishments as you make them, connect with people you have met at networking events, comment on things people in your network have published so you can become more visible. You can even publish your own posts.
6. Interview every 6-12 months.
This might sound pointless or even feel like it is going too far but I highly recommend it if you want to stay top of mind when recruiters are filling positions.
Even if work is going swimmingly and you're not thinking of changing roles, apply for your desired next role, secure an interview and see where you stand in terms of what will get you that next role.
Find out what you need to work on or learn. Get familiar with the questions recruiters ask at that next level. Get feedback after every application or interview so you can gather evidence of what you need to work on.
This will ensure that when you're ready to move on, you will go out into the job market equipped and confident.